UMONS Research Institute for Human Development and Organisations
The UMONS humanOrg Research Institute focuses on individuals, organisations and society. Its research focuses on analysing these three aspects in dynamic and varied ways in order to understand societal developments.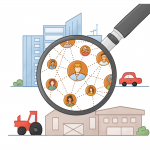 humanOrg aims to facilitate, develop and promote research on changes related to human development, organisations, and society as a whole.
The idea is to focus on development issues affecting humans and to contribute to scientific stimulation through the research projects.   Besides the scientific factor, humanOrg is also heavily involved in socio-economic projects.
The priority is to ensure the promotion of research with a high level of operationalisation.
To summarise, with the various components of the Institute, we can mobilise intellectual resources and focus our research to analyse issues through traditional means to disseminate research, and through scientific contributions, in conjunction with strong territorial development.
350

Publications per year