Schedule

Daytime schedule
Description
The Bachelor's in Pharmaceutical Sciences implements the scientific foundations for future pharmacists. By understanding the various subjects (of a chemical and biomedical nature) of this cross-disciplinary training, this course aims to teach the students the basics for their future as a scientist. The Bachelor's then leads to the Master's in Pharmaceutical Sciences.
The typical week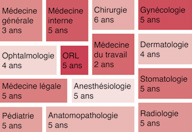 Program and structure
Trainee pharmacists, whose study disciplines are a combination of chemistry, biology and medicine, must have a theoretical understanding of these concepts and be able to use them in a practical way.
To achieve this goal, the BA timetable is largely devoted to practical work.
This practical experience, illustrative of the theoretical material, rigorously prepares students for the Master's degree course and their future career.
At the end of the cycle, the student will be able to read and understand scientific articles.
Pharmaceutical English and Psychology are also taught during this course.
Credits repartition
Basic Sciences
Life Sciences
Practical work
Pharmaceutical Sciences
English
Learning outcomes
At the end of this programme, students will be able to:
know, understand and apply the general course material (chemistry, physics, mathematics, biology)
master basic pharmaceutical (or biomedical) concepts: pharmacology, biochemistry, physiology, anatomy, immunology, etc.
describe the theoretical principle of a general or instrumental analytical method
choose the appropriate analytical technique according to the problem presented and experiment with the implementation of this technique (with rigor, precision and accuracy)
correctly process experimental data
write a summarised report with bibliographic research
use pharmacopoeia
ensure drug / pharmacopoeia compliance checks
dispense inorganic and organic medications.
Opportunities
The Bachelor's in Pharmaceutical Sciences allows for direct registration onto the Master's in Pharmaceutical Sciences (or the Master's in Biomedical Sciences), which can then be supplemented by other specialised Masters in the following areas: industry, hospital, clinical biology, cosmetology, and management.