Centre for Microscopy and Molecular Imaging
The Centre for Microscopy and Molecular Imaging (CMMI) is a research centre of the Health Institute, which was founded in 2011 thanks to financial support from the European Union and the Walloon Region (ERDF funds).
The CMMI meets the needs of the University of Mons and the Université Libre de Bruxelles (ULB) to pool and complement remarkable equipment and skills in order to offer the scientific community an integrated high performance preclinical biomedical imaging platform.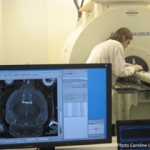 Located at the Biopark Charleroi Brussels South, the CMMI is an interuniversity platform that offers services in preclinical imaging to researchers at universities and in industry. It carries out high quality technical and methodological developments in this field   thanks to the scientific expertise present within the team of academic leaders. The objectives of the CMMI are to increase the quantity and quality of scientific productivity of its employees and to act as an essential partner in the development of projects on preclinical imaging.
CMMI offers a wide range of modern instrumentation and methodologies ranging from electron microscopy to in vivo animal imaging.
Areas OF Application
The CMMI has four clusters, three of which correspond to imaging modalities (in vivo DIAPATH, microscopy) while the fourth, MIP (Multimodal Image Processing) is a transversal cluster dedicated to image processing and analysis.
In vivo

PET / SPECT / CT, Autoradiography, MRI, optical imaging and in vivo photoacoustic imaging

DIAPath (Digital Image Analysis in Pathology)

Histology, immunohistochemistry, digital pathology, analysis of associated images

Microscopy

Scanning and transmission electron microscopy, automation and quantitative morphometry, holographic microscopy, fluorescence microscopy

Image Processing

Image processing and analysis, sharing, visualisation, annotation
The techniques and equipment available are varied and allow imaging of biological samples from the subcellular level to that of the whole animal.
The range of expertise is also very broad, from the preparation of samples to the quantitative analysis of images and the interpretation of the results in their biological context. The CMMI also offers training in imaging.
Contact
+32 (0)2 650 97 89
info@cmmi.be
cmmi.be