A research centre founded by the former University of Mons-Hainaut developing the materials of the future in the field of polymers and surface coatings.
Since its creation in 2000, Materia Nova has worked very closely with UMONS.
This collaboration has led to the combination of expertise in basic and applied research in order to improve the possibilities of transferring the university's research to industry.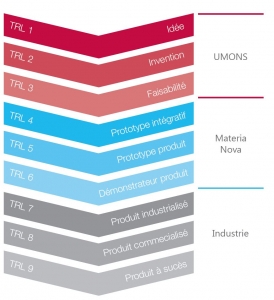 Fields of Application
Advanced materials and solutions for energy applications

Innovative and sustainable polymeric materials
Cells for materials and materials for cells
Multifunctional surfaces
Life cycle thinking
Characterisation platforms
Equipment
Materia Nova is also a vast equipment park:
a complete set of equipment for dry (plasma) and wet (sol-gel) scale deposits of pilot scale laboratory samples
a platform dedicated to the production of organic optoelectronic components
equipment for the synthesis and implementation of composite materials and bio-based polymers
a platform for analysing and characterising materials open to industry.
Today, Materia Nova
an inner hub of almost 100 recognised scientists and close collaborations with more than 300 external experts

has a flexible team of collaborators who are able to meet real challenges

is located in the centre of Europe

has partners in Belgium and abroad who are some of the biggest operators in the industrial world.
Contact
+32 (0)65 55 49 02
info@materianova.be 
materianova.be