International
Prix, bourses et distinctions
Recherche
Rector of UMONS, 1st Belgian researcher in materials science
For the second edition of the list of the best scientists in materials science published by Research.com, 8 UMONS researchers stand out among the 114 Belgian researchers ranked. Professor Philippe Dubois, Rector of UMONS, occupies the first position of the national ranking!
This is a very nice recognition for the UMONS, and even a nice confirmation. For the second edition of its ranking of the best scientists in materials science, the platform Research.com has once again referenced the leading researchers in this field.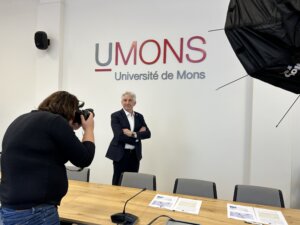 This ranking was published on the basis of h-index values (impact indicator of a researcher's publications), recent publications and citations of the ranked researchers.
More specifically, this list was created from a detailed analysis of 166,880 scientists. For the field of materials science, over 17,130 scientists were analyzed. The top scientists were then ranked according to their country of origin and research.
Professor Philippe Dubois, Rector of UMONS, is referenced as the best Belgian scientist in materials science. Behind him, we find 7 other researchers of the UMONS: David Beljonne (3rd), Jérôme Cornil (6th), Sophie Laurent (24th), Roberto Lazzaroni (28th), Jean-Marie Raquez (66th), Carla Bittencourt (77th) and Philippe Leclère (108th).
Other UMONS researchers are also ranked in other disciplines by Research.com. Find all the researchers listed and all the rankings here.
Research.com's mission is to motivate researchers, business people and policy makers around the world to identify the best experts while offering the entire research community the opportunity to discover who the best experts are in specific research areas, in different countries or even within research institutions.