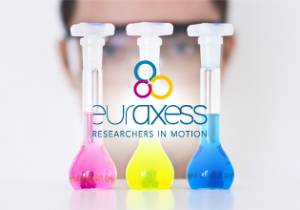 Euraxess is a European initiative intended to facilitate the mobility of researchers, thereby improving their training as well as the competitiveness of European research.
It is not easy to be a mobile researcher. That's why Euraxess is aimed at helping researchers throughout Europe. The term "researcher" refers to any person carrying out research, starting in the third cycle (including doctoral students and academics).
Euraxess is structured along 4 axes :
JOBS. Centralises information on job opportunities, financing, study grants, etc
SERVICES. Manages mobility centres throughout Europe, each one providing assistance to mobile researchers (formerly known as ERA-MORE).
RIGHTS. Informs mobile researchers about their rights, in particular the "European Charter for Researchers" and the "Code of Conduct for their Recruitment".
LINKS. Intends to make a link with European researchers expatriated outside of Europe.
UMONS – Publish or find a position as a researcher

Excerpt from an email from the FNRS dated 20th October 2010:

"Ten years ago, the European Council adopted the Lisbon Strategy identifying a knowledge-based economy as the main engine of growth thus placing scientific research at the heart of competitiveness in the EU.

Today, in order to contribute to the creation of the European Research Area, the European institutions have placed the transfer of knowledge and the mobility of researchers at the heart of this project (Ljubljana Process, 5th freedom, EUROPE 2020).

In this perspective, the European Commission created an internet portal for publishing job vacancies in the R & D sector, entitled "EURAXESS Jobs". This portal is based on the principles of transparency and open recruitment and is intended to stimulate the geographical mobility of researchers of the Member States.

This website can be found at http://ec.europa.eu/euraxess/index.cfm/jobs/index.

It classifies not only job vacancies available in the countries of the European Research Area, but gives an overview of grants and subsidies available in the pan-European area. It also contains a CV database of international researchers.

This initiative is supported by the Council of Rectors of the French-speaking universities of Belgium, as well as the Belgian Federal Science Policy Office (FNRS). And the Walloon government included participation in "EURAXESS Jobs" in its Marshall Plan 2.Green-project.

Consequently, in order to ensure the collaboration of our scientific community with this project, I would be grateful if you would see to the publication of your future job offers, in particular, via this channel of diffusion.

The advantages related to the publication of job offers through this channel are numerous:

Service free of charge
Transparency of the offer
Ease of use
Back office services ensured by the Commission (i.e validity check, compliance with deadlines)
Access to a broad international audience (40,000 visitors/month)
Access to a list of the CVs of more than 15,000 researchers
Offers published on the EURAXESS CfWB website (www.euraxess-cfwb.be) and university websites through an RSS feed in order to ensure maximal visibility"

UMONS is a member of this European network. As a mobility centre, UMONS can help you with your various administrative tasks: visa application, work contract, formalities to complete upon arrival in Mons, opening a bank account and any other questions related to your stay.

UMONS can also help you look for temporary housing, long enough for you to find the perfect apartment.

For further information on the services UMONS provides to mobile researchers:

Before arriving in Mons, we advise you to:

Contact your promoter in Mons to prepare your research programme and set the list of courses you may need to take
Obtain an official invitation from your UMONS promoter
Obtain a visa and/or temporary authorisation to stay on the territory (for all information: Ministry for Foreign Affairs). Your request should arrive at the Belgian embassy of your country of residence two months before your foreseen arrival date in Mons.
Take out a health insurance policy.

When you arrive, you need to have the following documents:

Passport or valid identity card
Visa where necessary
Official invitation from UMONS
Proof of health insurance (or the European health insurance card)
Passport photos

UMONS – Strategy statement

HRS4R "Human Resource Strategy for Researchers"

In order to promote the attractiveness of the profession of researchers, to support their mobility and offer them real career-advancement opportunities, the European Union published recommendations for good practice in terms of recruitment, employment and working conditions for researchers ("European Charter for Researchers" and "Code of Conduct for the Recruitment of Researchers"). On 20th December 2010, the University of Mons resolutely committed to setting up a strategy of human resource management in R&D, including a charter for researchers and a code of conduct for the recruitment of researchers (see document). The University has defined a series of axes on which it will concentrate its action in the years to come:

Reinforcing ethical, societal and professional dimensions contributing to the quality of research,
Improving the quality of information provided to potential candidates with the aim of ensuring the transparency of our recruitment procedures,
Increasing its research potential by establishing a proactive policy in favour of researchers from abroad, as well as underprivileged groups,
Contributing to improving the recognition of learning programmes and qualifications,
Supporting the continued development of careers for researchers.

UMONS is also committed to measuring the progress of the strategy's implementation, by undergoing an assessment and site visit every 3 years.
Interesting links: