Nearly 15 million euros from Erasmus to finance the activities of EUNICE, the European University for Customised Education
The European University for Customised Education (EUNICE), of which UMONS is a member, has just been awarded funding of 14.4 million euros, ensuring the continuity of its activities until 2027. This is excellent news for the Alliance, which brings together 10 universities and 170,000 students and researchers.
Excellent news for UMONS! The EUNICE Alliance has just been awarded 14.4 million euros in funding under the Erasmus+ 2023 call for tenders for European universities. After a three-year pilot project and an expansion to ten partner universities, this substantial funding will ensure the sustainability of EUNICE's activities until 2027.
Part of this funding will be of great benefit to UMONS, which over the next few years will be involved not only in coordinating the project and institutionalizing EUNICE, but also in developing the Alliance's academic offering, organizing student, cultural and sporting activities, and supporting research initiatives.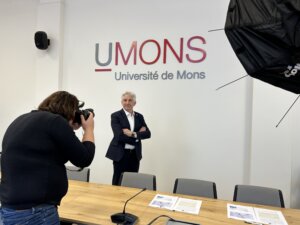 "As Rector of UMONS, a founding partner of the EUNICE European University, and also as its first President, I am delighted by this excellent recognition from the European Commission. It confirms the quality of the actions undertaken by all the partners over the last three years. This second 4-year phase will consolidate our Alliance, which now brings together 10 universities from 10 European countries and over 170,000 students/researchers", says Philippe Dubois, Rector of UMONS and President of EUNICE.
In January, EUNICE submitted a new project proposal, the vision of which is now being supported by the European Commission. EUNICE has a clear focus on transforming the educational experience for both students and teachers at a European scale. Its objective is to develop personalised educational paths, promote knowledge sharing among staff, foster interdisciplinary research, and implement educational approaches that address global challenges, while also addressing regional socio-economic issues.
The European University for Customised Education (EUNICE) was established in 2020 as a transnational alliance consisting of seven public universities: University of Mons (UMONS), University of Vaasa (UVA), University of Catania (UNICT), University of Cantabria (UC), Université Polytechnique Hauts-de-France (UPHF), Brandenburg University of Technology Cottbus-Senftenberg (BTU), and Poznan University of Technology (PUT). In 2022, the alliance expanded by welcoming three new members: Polytechnic Institute of Viseu (IPV), University of the Peloponnese (UoP), and Karlstad University (KU).
The collective goal of the member universities is to provide unique and personalised educational pathways to students, to foster interdisciplinary approaches to solve complex problems, and to collaborate with local partners in order to enhance regional effectiveness and vibrancy.
"We, at EUNICE, believe that together we can overcome the barriers that each of our institutions faces apart. Ultimately, our success will help to forge European communities better able to overcome contemporary social and economic challenges, and by extension create new solutions for Europe as a whole", stated Prof. Teofil Jesionowski, Rector of Poznań University of Technology (PUT-Poland), the institution coordinating this project.
Thanks to new funding and new partners, the EUNICE Alliance is more than ever ready to revolutionize higher education by promoting innovation, sustainability and inclusion in the European university landscape.