While a university is a place for learning, it is equally, and perhaps above all, a place where students can learn about their place in society. Campus life offers many opportunities to reinforce the relationship between students and allows them to build new friendships.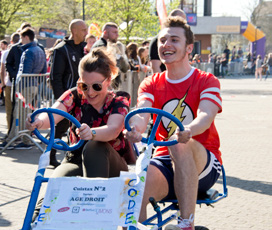 While UMONS organises festive and sporting events for everyone to enjoy, like the Coupe du Mons or the 4h cuistax (karting), the Law School organises numerous events for its students, in order to, amongst other things, bridge the gap between student life and professional life (conferences, meetings with legal professionals and companies, visits to political and legal institutions, information sessions about Master's programmes, etc.).
The Assemblée Générale des Etudiants (AGE) for the Law School is also a place for exchanges, support and fun, and is a great way to meet other students from the same course.
AGEs are organisations designed to encourage student integration in the faculty and provide activities for the students to enjoy throughout their student life. The Law School AGE is active througho…