Master's in
Biomedical Sciences
Specialist Focus on Neuroscience
Schedule

Daytime schedule
Description
This Master's programme offers unique interdisciplinary and integrated training covering all major fields of brain research, from normal brain function to neurological and psychiatric disorders.
At the crossroads of psychology and biology, this programme will provide you with both theoretical training and practical research experience.
This specialisation covers the field of neuroscience, from brain cells to cognition, using knowledge from different neuroscience disciplines, such as molecular biology and behavioural testing, to study brain function.
The programme helps to understand the mechanisms of psychological processes, as well as psychiatric and neurological disorders, and will provide you with the laboratory skills and knowledge to conduct basic and pre-clinical research into these disorders and mechanisms.
This programme can be followed partially or entirely in English.
Access conditions
1- Full admission for holders of an academic degree acquired in the French Community of Belgium
Do you already have a higher education qualification obtained in the French Community? Use our search tool to check whether your qualification grants you admission onto this Master's degree and, if so, under what conditions.
As an exception, students who still need to pass a maximum of 15 credits to be awarded an academic degree that would grant admission onto the Master's programme are also eligible. These students may not acquire more than 90 second-cycle credits (for 120-credit MAs) until they have obtained the first-cycle academic degree.

2- Admission for holders of a foreign academic degree recognised as equivalent to a second cycle academic degree which grants admission to the studies referred to in application of the decree of 7th November 2013, defining the structure of higher education and the academic organisation of studies, in application of a European directive, an international convention or other legislation, under the same conditions.

3- Admission through an application submitted to the board for their consideration.
Admission for holders of an academic degree similar to those awarded in the French Community (see point A), awarded by a higher education establishment outside the French Community (i.e. the Flemish Community, the German-speaking Community, the Royal Military School, or a foreign establishment), subject to the additional conditions set by the board. These additional courses are part of the Master's programme (2nd cycle). A qualification is considered equivalent to an academic degree awarded in the French Community if it leads to the same professional opportunities or further studies in the same field.
Under the general conditions established by the academic authorities, admission is granted to holders of a similar Belgian academic qualification or foreign qualification, if this qualification attests to successful completion of 1st or 2nd cycle studies, and provided that the board recognises at least 180 credits. The board may impose a complementary programme to the Master's degree of a maximum of 60 additional credits, taking into account all the credits that the student may already be able to use upon admission. These additional courses are part of the student's Master's programme (2nd cycle).
4- Recognition of Prior Learning
According to the UMONS procedure, the boards may recognise prior learning and skills acquired through professional and/or personal experience and give access to the MA to any person who does not fall into the categories listed above. The board determines the additional courses and possible exemptions that constitute additional conditions of admission for the student. This personal or professional experience must correspond to at least five years of activity. Years of higher education can only be taken into account at the rate of one year per 60 credits acquired, without exceeding two years.
Program and structure
Master Block 1:
Q1: Theoretical and practical courses
Q2: Experimental training and scientific communication in English.
Master Block 2:
Q1: Theoretical courses and experimental training
Q2: Placement outside UMONS (3 months), abroad or in Belgium, at a company or a university.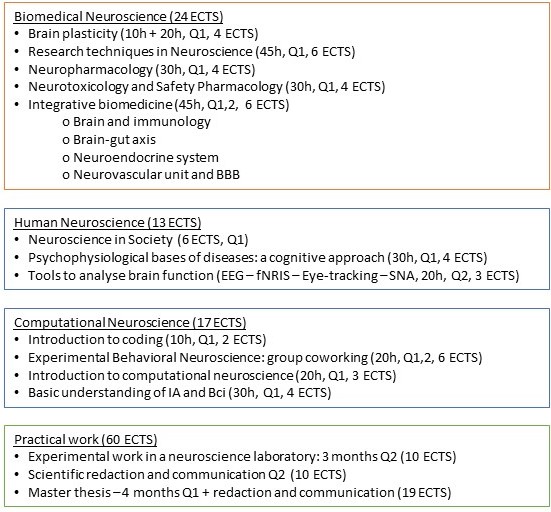 Credits repartition
Courses and Practical Work in Biomedical Neurosciences
Courses and Practical Work in Human and Social Neuroscience
Transversal Courses
Experiments and Placements
Teaching profile
The programme description defines the expected learning outcomes at the end of the cycle (Bachelor's, Master's, etc.).
The programme description defines the expected learning outcomes, i.e. what the student should know, understand and be able to achieve at the end of a learning activity, a teaching unit or a study cycle (Bachelor's, Master's, etc.). Learning outcomes are defined in terms of knowledge, expertise and soft skills.
At the end of the course, students will be able to:
apply their acquired scientific skills
apply their acquired professional integration skills.
For more information, consult the programme description for this study cycle below (in French).
Opportunities
Scientific careers in academia or industry
Pharmaceutical, food and medtech industries
Drug discovery and development (ageing population (Alzheimer's, Parkinson's, diabetes, stroke, brain tumours); obesity (nutrition); migraine; drug addiction...)
Scientific research and political functions in research institutes
Somatic and mental health care institutions
Forensic institutes
Educational research and consultancy centres
Insurance providers
Regional and national government
Behavioural economics and decision neuroscience
Public Policy Advisor
Sports medicine and rehabilitation
The military