Languages are essential for…
Entering the business world
Strengthening negotiations
Increasing international competitiveness.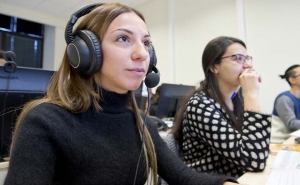 Our language courses are provided by a team of qualified and dynamic teachers, who use various approaches in their teaching, such as language labs, multimedia, and communicative and interactive methods. Their aim is to get our students to level B2/C1 of the Common European Framework of Reference (CEFR) by the end of their studies.
The compulsory English course is supplemented by Dutch or Spanish, comprising 45 hours per year. From the first block of the Bachelor's, groups are established according to level. There are also inter-faculty courses in Dutch, Spanish, English and German for students who wish to learn an additional language or who require remedial courses.
For students to further improve their language skills, language teachers organise activities, such as conferences by native speakers, visits to companies and international organisations, trips abroad, etc. Erasmus exchanges are also an option.
English
Learning business English in preparation for different professional situations, such as meetings, negotiations, sales, and public relations
TOEIC testing and certification at the end of Bachelor's
Job search preparation, including writing CVs and cover letters, and interview practice.
Spanish
No prior knowledge is required.
Bachelor:

Acquisition of the basics through everyday situations and current affairs
Discovery of Spain
Introduction to Economics in Spanish.

Master :

Discovering business Spanish and Latin America.
Dutch
Any prior knowledge of Dutch is considered an advantage.
Block 1 and Block 2 :

Consolidation of grammar and general vocabulary

From Block 3 onwards :

Life situations in business contexts and authentic work situations
Job interview preparation
CNaVT: possibility to obtain this internationally recognised certificate.
Economics and Management in English
English is the language of business, which is why the FWEG is committed to giving students the opportunity to take one or more courses in Economics and Management taught in English.
These courses are taught at Master level. By this point, students will have already been exposed to the basics in Business English during their Bachelor's course. This course enables them to develop their knowledge of Business English through courses, such as International Marketing, European Economics, Financial Management, Strategic Management, among others.